From Wining and Dining to Shopping
Victoria is alive on so many levels. Revel in theatre or live music, relax at an art gallery, savour a delectable West Coast meal or shop for the perfect gift – there's something for everyone, daytime or nighttime.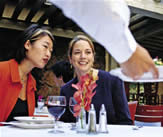 Dining out – a rich palate. Victoria is filled with global dining experiences. With an amazing 700 restaurants, there's something for every taste, from authentic British pubs to fresh seafood, to first class bistros and dining rooms – some with exquisite, world-renowned wine lists which draw on Vancouver Island's own famous vineyards.
Arts scene – A lively arts community supports music concerts, live theatre, art exhibits, festivals and film. The world renowned Royal British Columbia Museum is just steps away from the VCC, while one of Canada's finest professional ensembles, the Victoria Symphony, entertains yearround. The Art Gallery of Greater Victoria maintains a permanent collection of 15,000 objets d'art in a historic 19th century mansion. And the Pacific Opera Victoria is a nationally recognized symbol of excellence and artistic achievement. Victoria is also making its mark as a moviemaker's delight as the city offers locations from historic architecture to secluded forests and beautiful beaches all within a 20-minute drive.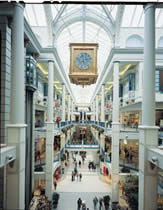 Throughout the year, festivals of music, theatre, independent film, literature, wine and food bring the world to Victoria.
Shopping heaven – from avant-garde to antiques. Victoria's popular shopping scene starts just outside the Victoria Conference Centre doors. All around us are a mixture of major fashion retailers and downtown malls along with independently owned art and antique shops, chocolatiers, bookstores and unique gift stores. And within minutes is the oldest Chinatown in Canada. All the selection and diversity you would expect from a growing capital city.
Relaxing – From downtown day spas to weekend spa escapes, Victoria is Canada's spa heaven. Many of our downtown hotels have excellent spa facilities. From hot stones to herbal wraps, beauty treatments to fine spa products – becoming restored and rejuvinated is no problem in Victoria.