Whale Watching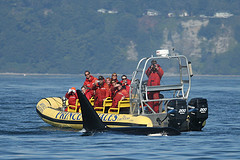 Take to the seas with Prince of Whales whale watching tours. Their three-hour excursions will give you a close up view of local sea life — seals, sea lions, otters, birds, and of course... whales. See the resident Orcas of the southern Gulf of Georgia from Prince of Whales' zodiacs or their larger Ocean Magic vessels.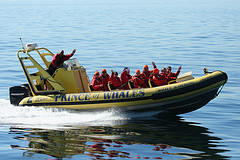 Zodiacs
$80.00 + GST / Adult, 3 Hours in duration
A fantastic fun-filled fresh-air experience! The zodiac-style boats are designed for high speed and quick turns. Feel the power of the Pacific Ocean first hand!
Ocean Magic
$85.00 + GST / Adult, 3 Hours in duration
World famous fast, quiet, and whale-friendly vessel — Prince of Whales' new big boats, the OCEAN MAGIC I & II, are 62-foot aluminum express cruisers capable of cruising at 30 knots an hour and seating 74 passengers. The boat functions as a floating classroom staffed by marine biologists who provide an educational narrative about the marine mammals you'll see along the way. Keep your camera handy!
Make a Reservation
E-mail info@princeofwhales.com or call toll-free 1-888-383-4884.
You must mention FOSS4G07 to receive the conference discount rate.
Bus Tours
Take a jaunt around the city, or up to the renowned Butchart Gardens with Grayline Tours. Present your conference pass at the ticket kiosk in the Empress and receive a 10% discount.
Tours depart from in front of the Fairmont Empress Hotel on Government Street.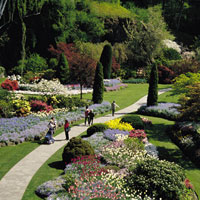 Grand City Drive Tour
$25 + GST, 1.5 hours in duration
Tours depart 10am, 12pm and 2pm
This narrated tour shows you the famous landmarks of the city and explains the fascinating history behind them. Discover Victoria's lovely homes, gardens and points of historic interest onboard an authentic British DoubleDecker bus. Tour highlights include: historic antique row, Victoria's Inner Harbour, downtown core, scenic views of Mt. Baker & San Juan Islands, exclusive residential areas of Uplands and Oak Bay.
Butchart Gardens Tour
$49.00 + GST, 3 Hours in duration
Visit Butchart Gardens, Victoria's most famous attraction by Gray Line West motorcoach. Stroll along winding paths and 50 fragrant aces of blossoms, enchanting theme gardens, steams and lily ponds. At Butchart's see the Sunken Garden, Rose Garden and Japanese Garden. Tours depart 10am, 12pm and 2pm.