Exhibition
The exhibition will include
sponsors
and exhibitors from around the world. The trade show will be spiced up with two additions:
Demonstration Theatre
Live demonstration of open source projects and vendor tools, running during lunch and coffee breaks.
Learn more...
Integration Showcase
Each partipating sponsor and exhibitor will have a demo in their booth, with connections to the demos in all the other booths, showing real time integration of all the products.
Learn more...
Facilities
The exhibition will be set up in Section A of Carson Hall on the second level of the Victoria Conference Center.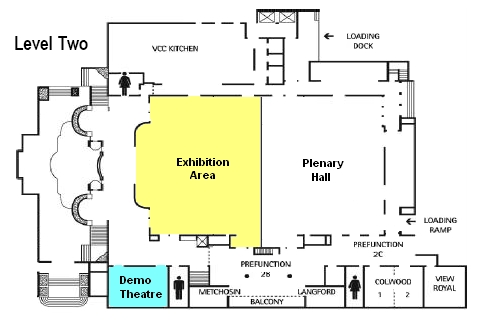 Current sponsors / exhibitors:
Open Source Geospatial Foundation (OSGeo)
Autodesk
GeoConnections
Google
Refractions Research
DM Solutions Group
British Columbia Integrated Land Management Bureau
Safe Software
Leica Geosystems
City of Nanaimo
ESRI
Orkney
Open Geospatial Consortium (OGC)
Camptocamp - Talend
The Open Planning Project
Canadian Forest Service
Timberline Natural Resource Group
The exhibition will be open from noon on Tuesday September 25th to 1pm on Thursday September 27th. The exhibit hall will be available for set up on Monday the 24th.
Interested in exhibiting at the conference, or sponsoring? Check out the Sponsorship & Exhibitor Prospectus, or contact sponsors@foss4g2007.org.