The Gulf Islands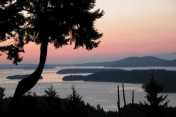 The Gulf Islands are a group of a few dozen islands located in the Canadian waters at the southern end of the Gulf of Georgia, the body of water between Vancouver Island and the mainland.
Sitting in the rain shadow of Vancouver Island, the Gulf Islands are in a micro-climate, of low rainfalls and moderate temperatures. The rugged topography creates sharp changes in folliage and tiny local ecosystems — it is not unusual to walk through open dry deciduous forest, into swampy cedar rainforest, and then out into clear, dry grass studded with arbutus trees, in the space of a few minutes hiking.
There are few traditional hotels in the Islands (just a couple on Saltspring), but no shortage of bed-and-breakfast accomodations. There are a few provincial campgrounds, and a few private campgrounds — be sure to check before-hand that your destination does allow over-night camping.
The largest islands can be accessed from Victoria using BC Ferries, starting from the Swartz Bay terminal at the north end of the Saanich Peninsula. Each island has its own character and attractions, you could easily spend a week visiting each one in turn!
Saltspring Island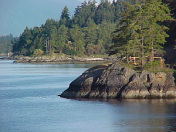 The largest of the islands, with a population of over 10,000, Saltspring has of late become a something of a destination for the rich and famous. Ferry service from Victoria is frequent, with a dedicated ferry making the run from Swartz Bay to Fulford Harbour every couple hours. As one would expect, with a large population and tourist appeal, there is much to do on Saltspring, ranging from kayaking to gallery tours to rock climbing (Saltspring sports a pair of impressive mountains). The urban heart of Saltspring is the village of Ganges, home to a number of decent restaurants and a highly popular Saturday market in the summertime. The market in particular is worth catching, if you have the time.
Pender Islands (North & South)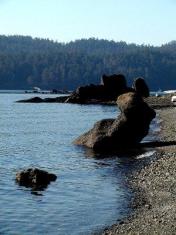 The Penders are the second most populous of the islands, but still much smaller than Saltspring, with a summer population of around 2,000. Ferries sail from Swartz Bay to Pender four to six times a day, depending on the day. Pender Island is known for its many coves and beaches - 37 in all! Old farms, orchards, farmhouses, and historic buildings, like the 1910 General Store (now an art gallery), dot the picturesque landscape making it a fabulous place for cycling or scenic drives. Pender Island has a great choice of activities and is especially noted for kayaking. Beautiful Beaumont Marine Park is your reward after a 40-minute walk or you can get there by boat. One of the few lakes on the Gulf Islands, Greenburn Lake is surrounded by high bluffs and features a lovely hike along an old access road. Other options for hikers and walkers include the Enchanted Forest Trail and the trails in George Hill and Mount Norman Regional Parks.
Galiano Island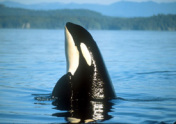 With a population of under a thousand, Galiano Island is considered by many to be the most beautiful of the Gulf Islands. You may think so too once you feast your eyes on Montague Harbour Provincial Marine Park, a gorgeous 97-hectare park with pristine beaches, lush forests, meadows, a tidal lagoon, and a network of beautiful, romantic walks. Bluffs Park is another fine example of Galiano's remarkable beauty and features a hiking trail and a view of Active Pass. For a challenging hike, follow the trail to the top of Mount Galiano; your reward is a panoramic view.
Mayne Island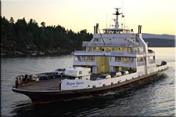 Tranquil Mayne Island has an interesting history. First, it was a stopping point for Gold Rush miners en route to the mainland in the 1850's, then became a turn-of-the-century vacation destination and the former commercial hub of the Gulf Islands. Evidence of its colourful past can been seen at the 1892 Springwater Lodge, 1890's agricultural hall, 1898 St. Mary Magdalene Church and cemetery, 1885 Georgina Point Lighthouse, Mayne Mast (a restaurant that was once a Japanese farmhouse), the old government wharf, and the 1896 Plumper Pass Lock Up, which is now a small museum.
Saturna Island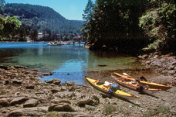 Small, quiet, and breathtakingly beautiful, Saturna Island is favoured as the perfect year-round hideaway. The population is very small, and ferry service infrequent. It can be difficult to find accomodation on Saturna. The scenic walks, awe-inspiring views, and heavenly beaches are the ideal remedy for stress. Saturna Island is especially noted for its abundant wildlife, including over 180 bird species. Almost two thirds of this island is protected within the Gulf Islands National Park Reserve; this brand-new park offers some outstanding opportunities for exploring.