About Victoria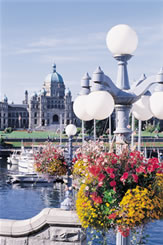 Victoria, located on Vancouver Island off the coast of Canada's British Columbia, is this year's home for FOSS4G. Victoria has the mildest climate in Canada (the average daily temperature in September is 19°C or 67°F) and has won numerous awards for its beauty and liveability from magazines like Condé Nast Traveler. The natural beauty of the Pacific coast and the adventure of the great outdoors lie within the city limits.
Activities Galore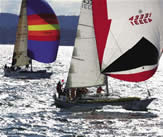 With the mildest climate in Canada, Victoria offers outdoor activities year round. Incredible eco-adventures are literally steps from the Victoria Conference Centre. And from a simple walk by the sea to great hiking in our parks and forests — the environment is breathtaking.
Attractions at your doorstep. As a cultural capital and world-class tourist destination, Victoria has no shortage of attractions, outdoors and in, many within a short walking distance of the Victoria Conference Centre.
Visit one of the world's great museums, the Royal BC Museum, just a stone's throw from the VCC and attached to a state-of-the-art IMAX Theatre. Our century-old Legislative Buildings, brilliantly outlined in light each evening, stand at the harbour's edge. Craigdarroch Castle, built in the 1880s, features the best collection of residential stained and leaded glass on the West Coast. And the world-famous Butchart Gardens, with its spectacular 55 acres of floral display, is quite simply a 'must-see'.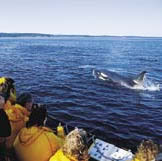 Eco adventure-land. You can head out on a whale-watching trip or take a guided sea-kayaking tour around our beautiful coastline. Or charter a floatplane, take a harbour cruise, hike a nature trail or hop on a salmon fishing charter.
Our wine country - Napa of the North. In just a short time, Vancouver Island's wines and ciders have gained an international reputation for quality. The warm, dry Cowichan Valley, an hour from Victoria, is the Island's largest wine-growing region. But only a short 20-minute drive from downtown Victoria will bring you to a number of estate wineries, hosting daily tours, wine tastings and seasonally inspired far.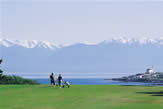 365 days of golfing. Victoria is a golf hotbed. And why not, when you can play year-round? There are almost a dozen courses within a half-hour drive, from championship and traditional courses to economical pitch-and-putts. Try Olympic View, with its two picturesque waterfalls and 12 lakes. Or lovely Cordova Bay, where multiple tees accommodate all levels of play. Royal Colwood is set amongst 450-year old Douglas Firs and majestic Garry Oaks, while the Victoria Golf Club, a seaside course, is acknowledged as one of Canada's finest private clubs. And Bear Mountain, with two Nicklaus courses, offers a special mountain-high golf experience.
Wildlife and marine life. Our precious environment affords us many gifts. Victoria and Vancouver Island are known as the place to see wildlife, whales and marine life in their natural surroundings. There are seals and shorebirds in the harbour and in the fall, a chance to see soaring eagles and one of nature's great spectacles, the salmon run at nearby Goldstream Park.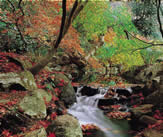 Outdoor activities. Welcome to the Walking and Cycling Capital of Canada where, in some parts of the city, over 20% of the population cycle to work. An extensive trail and road network awaits, with spectacular scenery. The Galloping Goose and Lochside Regional Trails alone cover more than 80 kilometres (50 miles) for easy cycling right from downtown Victoria. Or just to take a quiet stroll or stress relieving run.
Local and provincial parks. From wilderness to family recreation areas and beaches, Victoria has the highest ratio of parkland of any city in North America. The popular Beacon Hill Park has been a centre of family activity for more than a century. Our regional parks are linked by 100 kilometres of trails, in a green ribbon that stretches from the major ferry terminal at Sidney into downtown Victoria and on to the Western Communities.