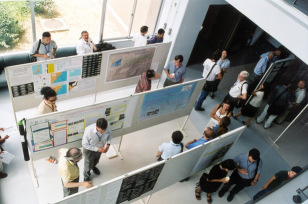 Posters
Format
Location: The FOSS4G poster session will be presented in the pre-function area of the Victoria Conference Centre.
Duration: The FOSS4G poster session will be one hour long. Poster presenters are encouraged to stand by or near their poster to explain the topic to interested parties.
Size: The FOSS4G posters will be mounted on 4' by 8' poster stands, four posters to a stand. Please keep your poster to less than 4' by 4' in size.
Schedule: The FOSS4G poster session will be during the Wednesday lunch hour. Poster presenters should plan to be near their posters to talk to viewers and answer questions.
Quantity: The FOSS4G poster session will have room for as many as 40 posters.
Acceptance: Posters will be accepted "first come, first served" until there is no more room or the deadline passes.
Submitting
The posters program is no longer accepting submissions.
Publication
Scholarly articles accompanying poster presentations may be published in the OSGeo Journal. Please see the publication page for more information.
Accepted Posters
Warning
: pg_query(): Query failed: ERROR: relation "abstracts_ranked" does not exist LINE 1: ...ation, ranking, interest FROM abstracts LEFT JOIN abstracts_... ^ in
/Library/WebServer/Documents/presentations/functions.php
on line
421
abstract_list_query : ERROR: relation "abstracts_ranked" does not exist LINE 1: ...ation, ranking, interest FROM abstracts LEFT JOIN abstracts_... ^